Astronomy Equipment
Electroluminescent (EL) Wire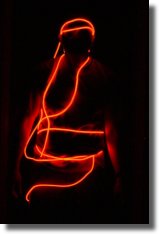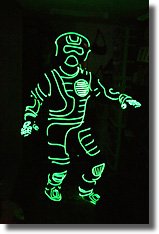 What is EL Wire?
EL wire is a flexible lighting product with endless application possibilities. EL wire, also known as electroluminescent wire, is totally flexible, cool to the touch, non-toxic, and produces a true 360-degree radiant soft neon glow. It is available in many different colors and in three widths. Most importantly for astronomy applications, it is available in red to help preserve night vision.
That's Cool Wire
Due to many requests, here is a link to the website that sells the electroluminescent wire: thatscoolwire.com
Specifically, the product similar to that you may have seen at HAC events can be found by clicking here.
The above link is the medium-width wire. For wrapping around telescope tripods, the thinnest wire may work best, as it may be slightly dimmer.
For comparison, the model number purchased was: WY-PPL-N2, (2.2mm), EL Wire Kit 4, 15 feet, 3VDC, $17.61. This model was used to wrap around the handle of a step-stool for visibility.
Longer lengths, such as 26 feet, might be better for other applications, such as tables or signs. Measure for your application and order accordingly. The wire can be powered by two AA batteries, or with an AC adapter.